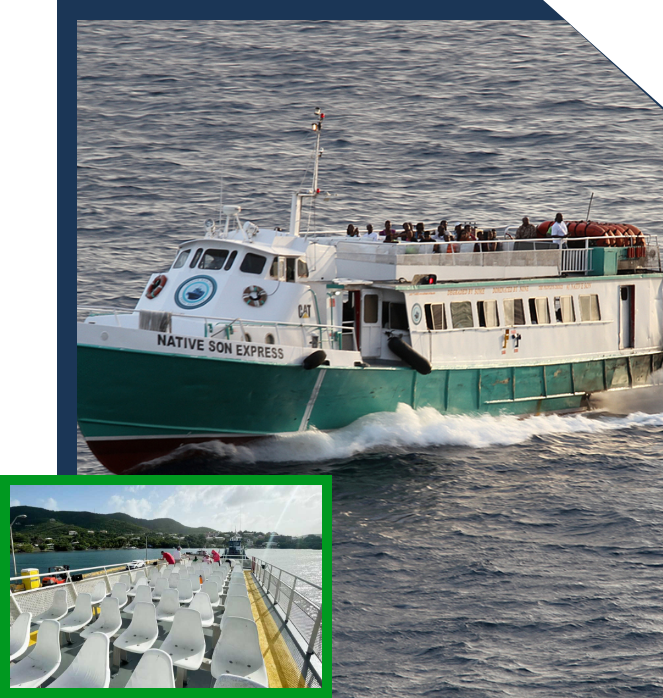 WELCOME TO NATIVE SON FERRY
Providing Transportation to your Favourite Island
Welcome to Native Son Ferry, your reliable ferry service between the US and British Virgin Islands. We offer convenient service from Charlotte Amalie and Red Hook in St. Thomas (USVI), and Road Town and West End in Tortola (BVI).
Do you have any questions? Contact us here:
U.S. Virgin Islands 340-774-8685
British Virgin Islands 284-494-5674
Experienced

Native Son is the only ferry company in the Virgin Islands providing scheduled service to and from Charlotte Amalie (St. Thomas), Red Hook (St. Thomas), West End (Tortola), and Road Town (Tortola). We offer many convenient choices to help you travel between the USVI and BVI, with affordable options to assist your travel needs. We invite you to travel on one of our high-speed vessels in air-conditioned comfort, or you can sit outside on our sun decks and enjoy the spectacular view throughout your journey.

Friendly

Is your upcoming flight landing in St. Thomas, and are you trying to get to Tortola? We offer convenient departure times from Charlotte Amalie direct to Tortola. We also offer service from Red Hook. Tell your taxi driver to take you to the next available Native Son departure, and you will be on your way. Are you trying to decide which ferry to take in order to make your connecting flight in St. Thomas on your journey back to the USA mainland? We offer convenient direct service from Tortola to Charlotte Amalie, which is a short taxi ride from Cyril E King Airport (STT) in St. Thomas. Going on a shopping trip? We handle your cargo with care. We will save you time and money. Join us.

Professional

Native Son Inc. is regarded by many as the pioneer of professional ferry service in the Virgin Islands. Since the company's conception in 1977, the management and staff of this elite ferry company have operated with a high degree of pride and efficiency. Now, in operation for over thirty-eight years, Native Son Inc. has weathered many storms and changes in the territory and business world at large. Native Son Inc. is cognizant of the vital role ferry service plays in the lives of Virgin Islands residents and visitors. We look forward to continued service and support from you, our valuable patrons.
BLOG
Latest News & Update
TESTIMONIALS
5-Star Tripadvisor Review of Our Ferry Services
Great Ride
We rode Native Son from St Thomas to Tortola and was very efficient and on-time. We were advised to ride this ferry by the proprietors of where we were staying in BVI as the most reliable ferry service and certainly met our expectations. Very efficient loading and operation.
– Ron P. | TripAdvisor
Reliable, On-time and Clean
We used Native Son to go from St Thomas -Red Hook to West End, and West End to Charlotte Amalie. The staff was friendly and the ferries were on time both times. Both vessels were clean and seemed to be well maintained.
– Kelley W. | TripAdvisor
Relax and Ride!
Native Son Crew is very accommodating. The crew allowed my disabled spouse to board early and lifted him on board and off the ferry. He was also given a wheelchair to use to assist him boarding and coming off. The ride was very relaxing.
– Chalala R. | TripAdvisor
Pleasant Ride to St Thomas
Got to Road Town and the Native Son was leaving in 10 minutes, so we took this ferry instead of waiting for the fast ferry. It left right on time. The staff was very friendly. The ride was enjoyable. Would use them again.
– Sam M. | TripAdvisor